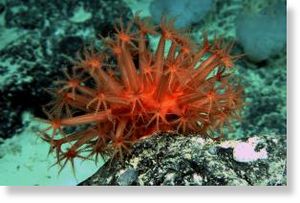 A four-week expedition to explore the deep ocean south-west of Tasmania has revealed new species of animals and more evidence of impacts of increasing carbon dioxide on deep-sea corals.
The collaborative voyage of US and Australian researchers was led by chief scientists Dr Jess Adkins from the California Institute of Technology and Dr Ron Thresher from CSIRO's Climate Adaptation and Wealth from Oceans Flagships.
"We set out to search for life deeper than any previous voyage in Australian waters," Dr Thresher says. "We also gathered data to assess the threat posed by ocean acidification and climate change on Australia's unique deep-water coral reefs."
The survey through the Tasman Fracture Commonwealth Marine Reserve, south-west of Tasmania, explored the near vertical slice in the earth's crust, known as the Tasman Fracture Zone, which drops from approximately 2000 metres to over 4000 metres.