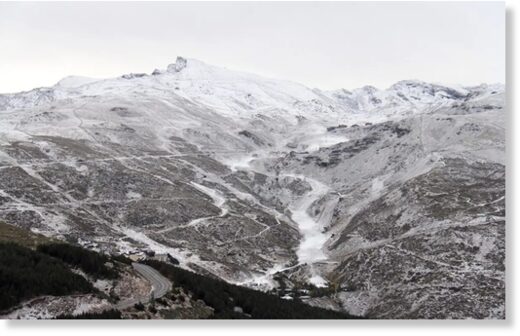 Ten Spanish regions were on alert for snowfall on Tuesday as the country braced for the brunt of the first winter storm of the season.
The storm - which arrived on Monday,
10 days before the meteorological start of winter
- is caused by the "arrival of a mass of cold air from high altitudes that has triggered a sudden drop in temperatures," said Rubén del Campo, the spokesperson of
Spain's national weather agency Aemet.
According to Del Campo, this mass of cold air has also brought about a
slow-moving storm system
, known officially as an upper-level isolated depression (DANA) but more popularly known in Spain as a gota fría, or literally cold drop.
On Tuesday, Aragón, Castilla-La Mancha, Castilla y León and La Rioja were placed on orange alert for snowfall, which is the second-highest in Aemet's three-tiered warning system. Asturias, Cantabria, Catalonia, the north of Madrid, Navarre and the Valencia region are on yellow alert, which is the lowest.