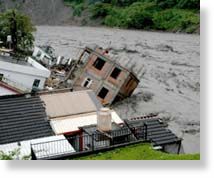 Surprised scientists say that typhoons which hit Taiwan unleash long, slow earthquakes, a phenomenon that may save the island from devastating temblors.
Seismologists installed movement sensors in boreholes at depths of 200-270 metres (650-870 feet) in eastern Taiwan, monitoring a spot where two mighty plates, the Philippine Sea Plate and the Eurasian plate, bump and jostle in an oblique, dipping fault.
Over five years, researchers saw a remarkable link between tropical storms and "slow" earthquakes, a seismic beast first identified three decades ago.
Slow quakes entail a slippage in the fault that unfolds progressively over hours or days, rather than a sudden, violent release of the kind that destroys buildings and lives.
The sensors noted 20 such slow earthquakes, 11 of which coincided with typhoons, during the study period.