Scientists on board RRS Discovery are at sea studying the Saharan dust that blows off the coast of Africa - triggering huge plankton blooms in the eastern Atlantic.
Saharan dust is rich in nitrogen, iron and phosphorus and acts as a fertilizer on the production of plankton.
Dr Eric Achterberg from NOCS is leading the research cruise and studying the dust's effect on nutrients, plankton production and the food chain.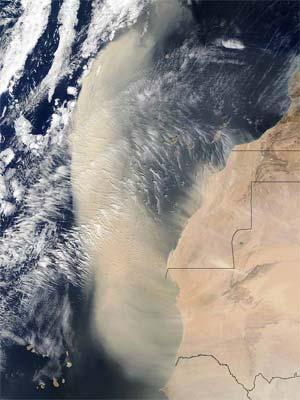 ©National Oceanography Centre, Southampton
MODIS satellite true color image of dust storm over tropical North Atlantic Ocean, March 2004.