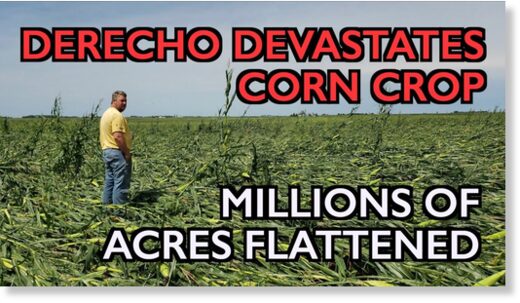 While the mainstream media focuses on the upcoming election, COVID-19 and the endless protests going on in our major cities, another great tragedy is unfolding all across the middle of the country. A nightmarish drought, horrific flooding along the Mississippi River and a giant "derecho" that just hit the farm belt have combined to make this one of the toughest years for farmers ever. And this comes at a particularly bad time, because the stress that the COVID-19 pandemic has put on food distribution systems has already created periodic shortages of certain items around the nation. We definitely could have used an uneventful growing season this year, and unfortunately we didn't get it.
On Monday, an absolutely massive "derecho" roared through the Midwest. According to
USA Today
, the storm had winds of up to 112 miles per hour...
The storm had winds of up to 112 mph near Cedar Rapids, Iowa - as powerful as an inland hurricane - as it tore from eastern Nebraska across Iowa and parts of Wisconsin, Indiana and Illinois, including Chicago and its suburbs.
Most hurricanes don't have winds that high once they finally reach shore, and I have personally never experienced wind speeds of such magnitude.
Needless to say, this very unusual storm caused immense devastation. According
to Iowa Governor Kim Reynolds
, approximately 10 million acres of crops were destroyed in Iowa alone...