The Coast Guard scrambled helicopter rescue crews to the hardest-hit locations in Western Washington today as Gov. Christine Gregoire declared a state of emergency because of massive flooding, heavy rain and high winds that have killed at least two people.
The weather caused a three-day shut-down of Interstate 5 near Chehalis, and cut off coastal communities. All over Western Washington, flooding deluged homes and businesses.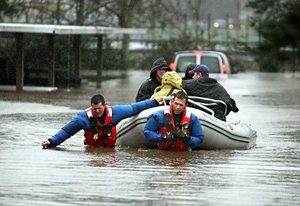 ©Steve Ringman/Seattle Times
Woodinville firefighters Jesse Disch, left, and Justin Ralph pull residents of the Archstone Apartments and their pets to safety.
So far, the worst of the weather has focused on Grays Harbor and Pacific counties, which have reported tens of thousands of customers without electricity, and most major roads in and out closed or blocked, including U.S. Highways 12 and 101. At one point early Monday nearly every road into Aberdeen was closed or blocked.
The Chehalis River was also flooding in Lewis County, including Chehalis, where helicopters were scrambled to rescue people from their flooded homes. . The weather service said heavy rain and lowland snow likely would cause the river to surge into areas that had never flooded before.