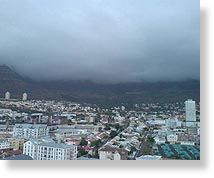 Storms, driving rain and gale force winds have battered Cape Town, leaving some 1,200 people homeless after flooding in shanty towns, South African disaster management officials said Thursday.
"We had heavy downpours and in our informal settlements we had about 600 dwellings that have been affected, leaving about 1,200 people seeking temporary shelter," disaster management spokeswoman Charlotte Powell told AFP.
Two consecutive cold fronts accompanied by storms have also affected power lines around the city, while massive swells led to two barges being wrecked out at sea.
The
Cape Times
newspaper reported swells peaking at 17 metres (56 feet) on Wednesday.
Twenty-five film students were stranded on Dassen Island just off the coast, while 29 hikers had to be evacuated off the popular Otter's Trail.