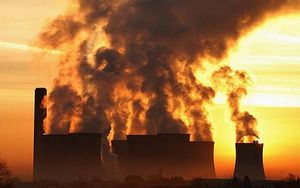 The most comprehensive climate change projections ever produced show the UK is facing temperature rises of between 3.6F (2C) and 10.8F (6C) by 2080.
Droughts will become commonplace in the South East by 2040 and there will be less rain in the summer and more in the winter, with more storms leading to widespread flooding, particularly in the North of the country.
Presenting the findings of the UK Climate Projections 09 study, Hilary Benn said the predicted changes would "transform the way we live".
He said that the heatwave that killed 2,000 people in 2003 would become "normal". Infectious diseases in humans and animals are likely to become more widespread because bugs will not be killed off during the winter.
Mr Benn warned that health authorities, councils, developers and farmers would all have to change the way they worked to deal with the problems of climate change. Buildings would have to be made more able to cope with hotter summers and flooding while water metres would have to be installed to help cut use.