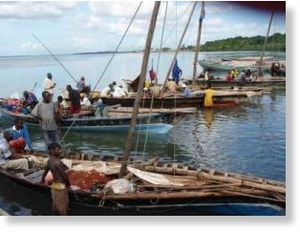 The economy isn't just squeezing the middle class on land, it's also affecting fish. Wealthy areas and least developed regions have healthiest fish populations, while those in the middle are suffering.
According to a study by the Wildlife Conservation Society (WCS) and other organizations, researchers discovered a surprising correlation between "middle class" communities in Eastern Africa and low fish levels. Curiously, areas with both low and high socio-economic levels had comparatively higher fish levels.
Appearing in the latest edition of
Current Biology
, the study examined reef systems, human population densities, and socio-economics among villages in 30 fished and unfished study sites in five countries along Africa's Indian Ocean coast.