Ice cores clearly demonstrate the close relationship between atmospheric CO2 levels and temperature, as seen below.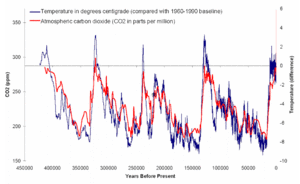 This relationship has been well understood by geologists for longer than Al Gore has been alive.
As ocean temperatures rise, the solubility of CO2 in seawater declines. Thus increasing ocean temperature moves CO2 from the ocean into the atmosphere, and decreasing ocean temperatures move CO2 out of the atmosphere and back into the ocean. As you can see in the graph below, a 10C shift in temperature causes about 30% reduction in dissolved CO2. Closely corresponding to what we see in the measured ice core graph above.