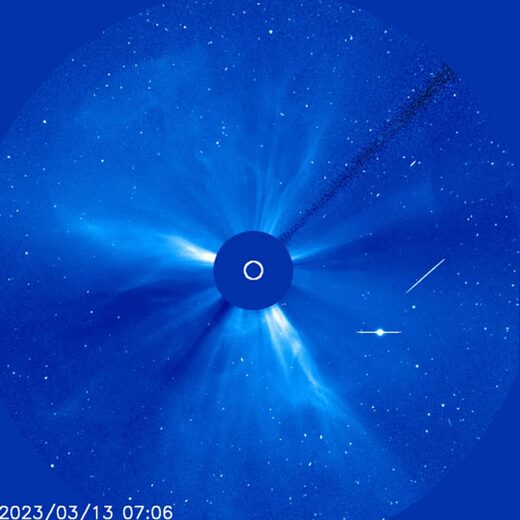 Late on Monday, March 13, the Sun blasted out a coronal mass ejection (CME) traveling at at least 3,000 kilometers per second (6,700,000 miles per hour), possibly the fastest ever recorded. The expelled particles reached the Earth's orbit in less than a day.
Had they hit the Earth, the results could have been catastrophic, but fortunately the CME was directed almost directly opposite.
However, the explosion is a reminder the next time we may not be so lucky.

Comment: That it was 'almost directly opposite' is interesting in itself.


Despite coming from the far side of the Sun, it appears the event has
caused a minor radiation storm
on Earth. A smaller, and much slower, CME on Saturday that was predicted to graze the Earth may have also contributed. CMEs can affect each other, with one
clearing a path
for the charged particles from another.
Spaceweather.com
predicts shortwave radio failures for planes flying over the poles.