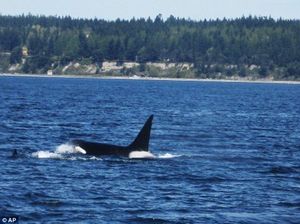 Whale watchers in Puget Sound caught a rare and dramatic sight from their tourist boat: a pod of orcas speeding by in attack mode and then ramming a grey whale called 'Patch' under water.
After the gray whale dove beneath the water on Sunday, the pod of attacking transient killer whales followed suit.
'Everything was quiet for a minute,' said Monte Hughes, captain of the Anacortes-based Mystic Sea Charters. 'Then the water went into a frenzy. ... You could see the movements of the grey whale being hit underneath the water.'
A short time later the gray whale surfaced, belly up, and jerked upward two or three times as it was being hit from below, he said.
The killer whales then took off, and the grey whale floundered for a time, but eventually swam toward shallow waters.