Poachers from an array of factions have killed 17 elephants in eastern Democratic Republic of the Congo since mid-April, conservationists announced.
The killings of the first 14 animals were announced early last week, and an additional 3 were found Friday.
The rare animals were slaughtered in Virunga National Park, most likely to feed Asia's demand for ivory.
Virunga's ecosystem has come under increasing pressure from a bevy of military groups looking to exploit the natural resources in its jungles to fund their operations.
The Nairobi-based charity WildlifeDirect, which publicized the latest killings, said Rwandan and Mai Mai rebels, Congolese army forces, and even local villagers were all to blame.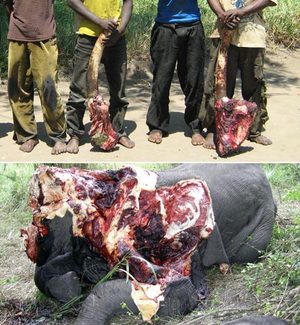 ©ICCN/WildlifeDirect
Poachers hold a pair of harvested elephant tusks (top) on April 27, 2008. To claim the tusks, which are carved into ivory goods, poachers will butcher an elephant and leave the rest of its body to rot, as seen in an image of a slaughtered elephant (bottom) taken on April 20, 2008.

At least 17 elephants have been found butchered for their tusks since mid-April in Democratic Republic of the Congo's Virunga National Park, wildlife groups announced.