PUERTO MONTT/FUTALEUFU - Chile on Thursday ordered holdout residents to flee from an erupting volcano in the remote region of Patagonia and vowed to force them out if they refuse to obey.
The military evacuated a small contingent of troops and journalists from near Chaiten volcano in southern Chile before dawn on Thursday after it spat out fiery material.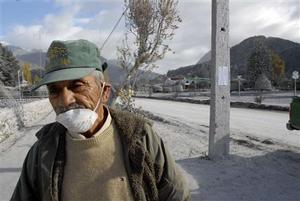 ©REUTERS/Jorge Cortizo
Jose Marciano, wearing a face mask to protect himself from volcanic ash, walks in Futaleufu, near the Chaiten volcano, located some 1,450 km (900 miles) south of Santiago, May 8, 2008.
But some civilians refused to leave two villages near the volcano that began erupting last week for the first time in thousands of years. It has spewed ash that has reached the Atlantic seaboard and the Argentine capital, Buenos Aires.