Australia - Southeast Queenslanders have been promised they will never again face the extreme water restrictions they have endured through the long drought.
Deputy Premier Paul Lucas said today that while "we can't control the rainfall...we can certainly make sure we will never face extreme level water restrictions again".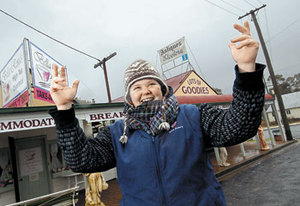 ©Courier Mail
Snow business ... Nat Burton, of the Bella Rosa Tea Rooms at Thulimbah, near Stanthorpe, rugged up yesterday.