A giant sinkhole swallowed a stretch of street on Mexico City's east side, with one man feared dead and 30 families evacuated, authorities said Monday.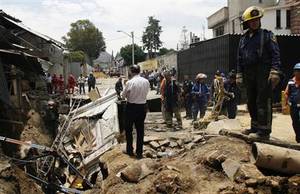 ©AP
Rescue workers stand by a 45 foot deep sinkhole that swallowed a stretch of street in Mexico City on Sunday. It began as a giant crack late Saturday in the eastern Iztapalapa borough and rapidly worsened when the ground collapsed, swallowing a car, the facade of a one-story brick building and pavement. One man is feared dead.
Even in a city where historic buildings regularly lean, crack, collapse or sink below sidewalk level due to excessive water extraction and unstable soil, the 45-foot-deep sinkhole - which measures about 15 yards in diameter - came as a shock.