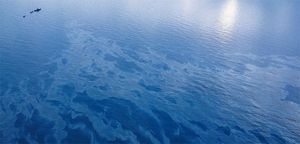 A massive oil slick moving towards Ireland and the UK is more than three times larger than originally estimated.
The spill, about 50 miles south of Fastnet Rock, off the west Cork coast, was discovered near where a Russian warship was refueling in the Celtic Sea.
It is now believed to be 1,000 tonnes, revised upwards from 300 tonnes, and could reach Irish and Welsh shores in just over two weeks.
A Russian destroyer, a British destroyer, an Irish Naval vessel and a Russian aircraft carrier are all at the scene, along with an ocean-going tug and two refueling tankers.