RALEIGH, N.C. - Each April, weather wizard William Gray emerges from his burrow near the Rocky Mountains to offer his forecast for the six-month hurricane season that starts June 1. And the news media are there, breathlessly awaiting his every word.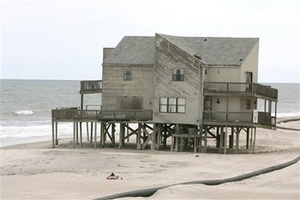 ©AP Photo/Logan Wallace
A solitary sunbather, a renourishment pipe and a condemned oceanfront home is shown in North Topsail Beach, N.C., Wednesday, May 14, 2008. The island has ongoing difficulties with erosion that may make it particularly vulnerable to hurricane strikes.