More than one million people have been evacuated or stranded as rivers in northeastern India and Bangladesh rose to alarming levels and submerged vast swathes of countryside, officials said Monday.
In India's Assam state, the army helped shift an estimated 800,000 people as the Brahmaputra river and its tributaries -- swollen by monsoon rains -- breached their embankments late Sunday.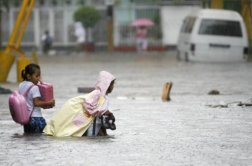 ©Reuters
A further 300,000 people further downstream in Bangladesh were displaced or marooned, most of them for the second time in as many months, officials said.