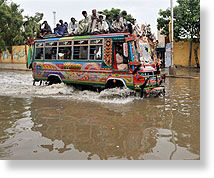 At least 26 people, mostly women and children, were killed and hundreds injured after the first torrential rains of the monsoon lashed Pakistan's southern port city of Karachi, officials said Sunday.
The heavy monsoon rain, which started early Saturday, brought much of the city to a standstill as power and communication systems were badly affected and hundreds of people were forced from their homes.
Meteorological officials said more rain was due in the next 24 hours in southern Sindh province, of which Karachi is the capital.
"According to our reports 26 people are confirmed dead and hundreds injured. We are facing an emergency-like situation. We cannot fight with nature," Karachi mayor Mustafa Kamal told AFP.