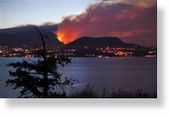 Emergency crews made slow progress Sunday to contain wildfires that have forced thousands of residents of a western Canadian community to flee their homes.
Wind and dry conditions were fueling the large blazes that broke out Saturday in the rugged hills along Okanagan Lake west of the city of Kelowna, British Columbia, where housing subdivisions have encroached on the surrounding forest in recent years.
"The winds are definitely adding to the fire activity," said Elise Riedlinger, a spokeswoman for the British Columbia Forest Service, which has not estimated when the fires can be brought under control.