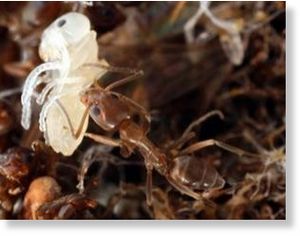 Life really stinks for Argentine ants. New research shows that while alive, the ants produce two odoriferous chemicals that prevent their compatriots from immediately carting their bodies away to the 'morgue'.
Within minutes of their death, however, the conspicuous absence of these chemicals prompts workers to remove the carcasses, explaining how the foraging ants are able to detect and dispose of their dead before infectious pathogens and pungent chemicals fill the corpse.
The work overturns a long-held idea - first suggested by ant expert E. O. Wilson - that it is the buildup of fats after death that encourages workers to collect the dead.
Dong-Hwan Choe, an entomologist at the University of California, Riverside, says the accrual of fats can't explain why some ants and bees dispose of their dead well before the chemicals reach a high level.