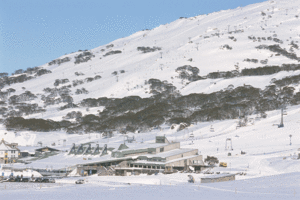 Over half-a-metre (20 inches) of snow has been falling on Australia's ski slopes over the past 48 hours, with most still not expecting to open for nearly six weeks or more.
Snow continues to fall at Perisher in New South Wales. From the peaks to the valleys, a thick layer of snow can be found, making the resort look more like July than April. Another 25cm (10 inches) of snow settled across the upper elevations on Monday night, April 27th.
Overnight temperatures dropped to -5 degrees Celsius and it is currently 0 degrees Celsius at the bottom of the Forester Quad Express. Weather forecasters have predicted that overnight temperatures will stay nice and cool with more snow showers expected in early May. Cold temperatures will also allow Perisher to commence its snowmaking operations earlier as well.