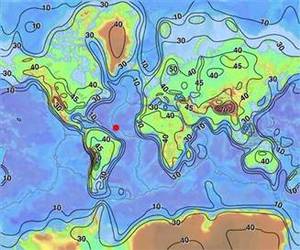 ©USGS
A map showing the average crust thickness on the Earth. The red dot marks the location of the exposed mantle that scientists aboard the RSS James Cook will study.
There's a huge hole that extends over thousands of square miles in the Atlantic seafloor between the Cape Verdes Islands and the Caribbean nearly 2 miles below the ocean surface where Earth's deep interior is exposed without any crust covering and a team of scientists wants to find out why.
"It's quite a substantial area," said Chris MacLeod, a marine geologist at Cardiff University in the UK, who will be part of the expedition.