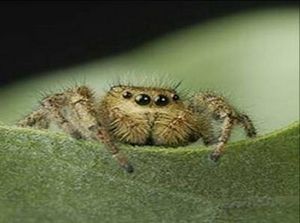 If you thought women's pro wrestling was a cutthroat business, jumping spiders may have them beat.
In most animals the bigger, better fighter usually wins. But a new study of the jumping spider
Phidippus clarus
suggests that size and skill aren't everything - what matters for
Phidippus
females is how badly they want to win.
Found in fields throughout North America, nickel-sized
Phidippus clarus
is a feisty spider prone to picking fights. In battles between males, the bigger, heavier spider usually wins. Males perform an elaborate dance before doing battle to size up the competition. "They push each other back and forth like sumo wrestlers," said lead author Damian Elias of the University of California at Berkeley.