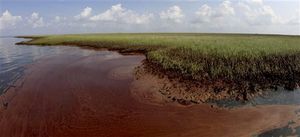 New Orleans, Louisiana - While BP is capturing more oil from its blown-out well with every passing day, scientists on a team analyzing the flow said Tuesday that the amount of crude still escaping into the Gulf of Mexico may be considerably greater than what the government and the company have claimed.
Their assertions - combined with BP's rush to build a bigger cap and its apparent difficulty in immediately processing all the oil being collected - have only added to the impression that the company is still floundering in dealing with the catastrophe.
The cap that was put on the ruptured well last week collected about 620,000 gallons of oil on Monday and another 330,000 from midnight to noon on Tuesday and funneled it to a ship at the surface, said Coast Guard Adm. Thad Allen, the government's point man on the crisis. That would mean the cap is capturing better than half of the oil, based on the government's estimate that around 600,000 to 1.2 million gallons a day are leaking from the bottom of the sea.