The worst floods of the year caught the people of Loei and Phetchabun off guard while they slept yesterday.
Pre-dawn forest run-off from Huai Dong Thip and Huai Nam Pung in the mountains of Loei's Dan Sai district roared into Nam Pung village at 3am yesterday, destroying three houses.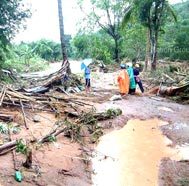 ©The Nation
Villagers look at the spot where three houses used to stand near Dong Thip River in Loei's Dan Sai district.
One house with a family of three was swept away. Local officials retrieved the body of Somyupin Seechamuk seven kilometres from a broken bridge and later found her 10-year-old son's body, but her husband was still missing.