Oceanic planetary waves, just an inch or two high at the surface but thousands of feet deep and hundreds of miles apart, sweep slowly but steadily across Earth's oceans: a surfer who caught one in Acapulco would take four years to wash up on a Chinese beach. The waves are speeding up, though, thanks to global warming, and as they do, they could affect weather patterns around the world.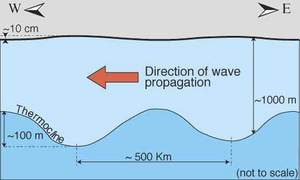 ©Paulo Cipollini, Southampton Oceanography Centre
Schematic of a typical oceanic planetary wave traveling westward with horizontal scale of about 500 kilometers and with vertical amplitude at the sea surface of about 10 centimeters. Such waves have a major effect on the large-scale ocean circulation and thus on weather and climate.