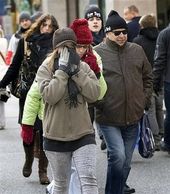 Reno, Nevada - While much of the nation got a reprieve from heavy snow and ice, another winter storm blanketed parts of the West, snarling holiday traffic and briefly darkening lights on Christmas trees before barreling eastward.
Winter storm warnings were issued Friday for Utah, Arizona, New Mexico, Colorado, Wyoming, Montana and the Dakotas, while a blizzard warning was in effect for southwestern Colorado.
"
It's going to be a heck of a storm
," said Chris Cuoco, senior forecaster for the National Weather Service's Grand Junction office. "We're expecting significant snowfall in all the mountains of Colorado. Even the valleys are going to see 4-plus inches of snow."