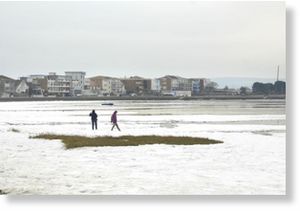 Temperatures plunged so low today that the sea actually began to freeze as Arctic conditions continued to grip the UK.
In the exclusive enclave of Sandbanks in Poole, Dorset, a half-mile stretch along the shoreline reaching about 20 yards out to sea is covered in ice.
The enclosed area and lack of movement caused by light tides would make the sea here more susceptible to this occurring, said Tony Conlan, a forecaster with the MeteoGroup.
The sea freezing is a relatively rare occurrence and the last time the sea in the South froze was in February 1991. It was in 1963 that the seas iced over more widely.