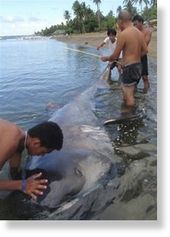 Only 41st Worldwide and First in Luzon
So rare are these sharks that each of them is designated with a number.
Fishermen based in Donsol were trawling for mackerel along the eastern coast of Burias Isle on the morning of 30 March when they caught a strange-looking shark from a depth of approximately 200 meters. World Wildlife Fund's (WWF) satellite tagging initiatives have already shown that pelagic filter feeders such as whale sharks and manta rays regularly prowl through the region. It was only a matter of time before something else was discovered.
The shark was brought to Barangay Dancalan in Donsol, Sorsogon for assessment. WWF Donsol Project Manager Elson Aca immediately arrived to assess the haul - and promptly identified it as a megamouth shark.