Earth Changes
---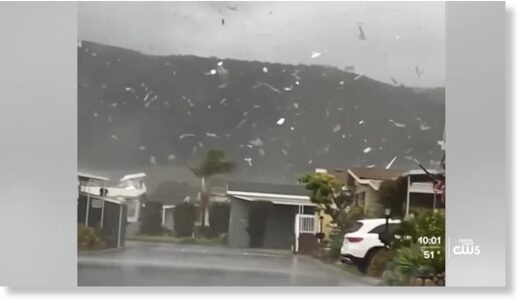 On Tuesday, a tornado struck a mobile home park in Carpinteria, damaging more than two dozen homes. No serious injuries were reported. MORE:
https://abc7.com/landspout-montebello...
---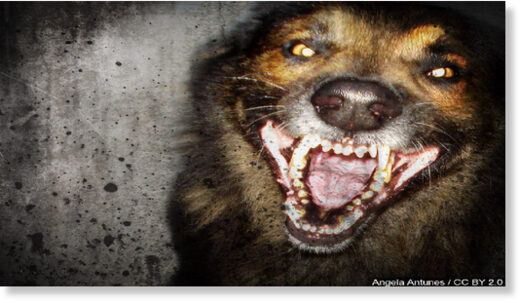 In a horrific incident in Bhestan area of Surat, a 5-year-old boy was bitten to death by about 10 stray dogs on Wednesday. The child was attacked when he went to attend nature's call nature nearby while his parents, who are construction workers, were away.
According to sources, the boy's father Ratul Pandor and his mother live and work at a concrete mixing plant near Bhestan Fire Station. On Wednesday evening, when Pandor and his wife were working at the site, their son went to attend nature's call. Right then, a pack of dogs pounced on him and bit him several times around his stomach and head.
The attack by dogs was so brutal and vicious that the boy's body was torn apart.
Comment:
Details of the other 2 attacks:
---
Richard Davies
Floodlist
Wed, 22 Mar 2023 18:28 UTC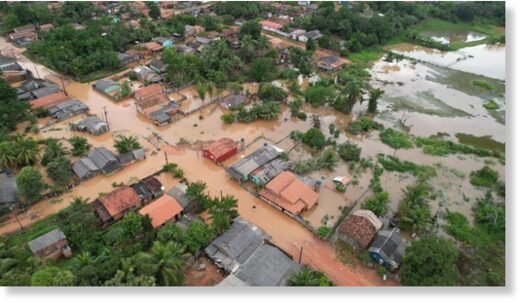 Thousands of people have evacuated their homes after flooding and landslides in several northern states of Brazil.
At least 6 people have lost their lives in the state of Maranhão and 3 in the state of Ceará.
Maranhão
Authorities in the state of Maranhão report that multiple municipalities in the state have declared a state of emergency in response to the recent heavy rainfall. Around 800 households have been displaced. Federal and state governments are distributing relief supplies including mattresses and food, mostly in Pedreiras and Santa Luzia.
One of the hardest hit areas is the municipality of Santa Luzia, where 2 people died in a landslide. Firefighters and the Tactical Air Center (CTA) participated in an operation to provide assistance to the population. In Açailândia, a vehicle was swept away by the flood and three people died. Dam failures caused flooding in the municipalities of Barra do Corda and Santo Antônio dos Lopes.
---
---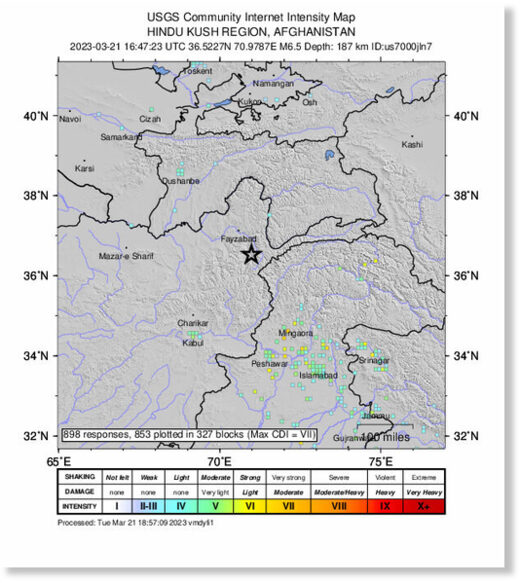 An magnitude 6.5 earthquake struck northern Afghanistan on Tuesday evening, killing at least one person in neighbouring Pakistan and causing strong shaking across the north in both countries.
The tremor was very deep, 194 km, and its
epicentre was in the Hindu Kush mountain range, near the remote northern Afghan province of Badakhshan.
A 13-year old girl died when a wall in her home collapsed on her, and 34 people were injured in the northern Pakistani district of Swat, police officer Shafiullah Gandapur told Reuters.
Disaster authorities in Afghanistan said they did not have any immediate reports of casualties.
Comment:
Update March 22
The
Evening Standard
reports
:
At least 13 people were killed and more than 90 injured in Pakistan and Afghanistan after a magnitude 6.5 earthquake struck late on Tuesday.

Millions felt the tremors rattle the South Asian region late on Tuesday, sending terrified residents fleeing from homes and offices.

At least nine people died in Pakistan and four in Afghanistan.

The quake was felt over an area more than 1,000 kilometres (621 miles) wide by some 285 million people in Pakistan, India, Uzbekistan, Tajikistan, Kazakhstan, Kyrgyzstan, Afghanistan and Turkmenistan, the European-Mediterranean Seismological Centre said.

The epicentre was in the Hindu Kush mountains, in the sparsely populated northeastern Afghan province of Badakhshan, 40km southeast of Jurm village, at the considerable depth of 187km, the US Geological Survey said.

In Pakistan's Khyber Pakhtunkhwa province senior provincial official Abdul Basit said that in addition to the dead and injured, at least 19 houses were damaged.

Shafiullah Rahimi, a spokesperson for Afghanistan's disaster mitigation ministry, said late on Tuesday that two people had been killed in the eastern province of Laghman.

Large parts of South Asia are seismically active because a tectonic plate known as the Indian plate is pushing north into the Eurasian plate.

A 6.1 magnitude earthquake in eastern Afghanistan killed more than 1,000 people last year.

In 2005, at least 73,000 people were killed by a 7.6 magnitude quake that struck northern Pakistan.
---
Nouran Salahieh and Christina Maxouris
CNN
Wed, 22 Mar 2023 13:42 UTC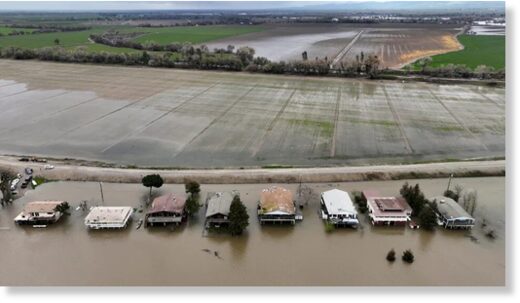 More than 135,000 California homes and businesses were without power Wednesday morning after another atmospheric river walloped the storm-fatigued state with heavy rain and hurricane-force winds.
The storm's ferocious winds downed trees and damaged power lines across California, where at some point Tuesday most of the state's population - more than 35 million people - were under some kind of weather alert, including a brief tornado warning in Ventura County.
Utility company Pacific Gas and Electric
said
the storm system "exceeded all expectations," damaging electric infrastructure and knocking out power to thousands. The company said its crews are working as quickly as possible to assess equipment damaged by the storm, but spokesperson Carina Corral
warned
that flooding, fallen trees and other obstacles can slow down restoration efforts.
---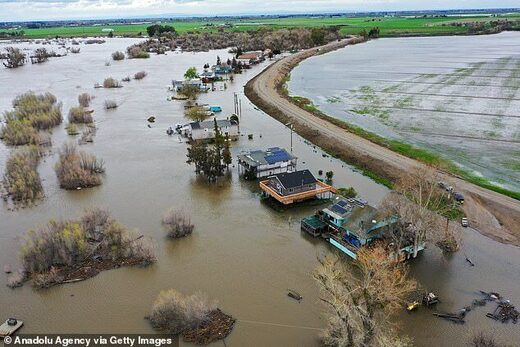 A 'bomb cyclone' slammed into San Francisco Tuesday evening in the latest severe storm to hit the West Coast, devastating the region with hurricane-force winds and torrential rainfall.
The weather front is the latest
major storm
to hit the region this year, where it unleashed flash floods and blistering wind gusts throughout the Golden State.
At least one person died after the gusts - which reached upwards of 78mph - caused a tree to fall near Portolla Valley. Meanwhile, more than 230,000 residents across California had their power wiped out in the storm.
Glass from a San Francisco high rise reportedly plummeted to the ground after the storm swept in late afternoon, however no injuries were reported from the incident.
---
Erik Larsen, Dan Radel
Courier Post
Tue, 21 Mar 2023 10:01 UTC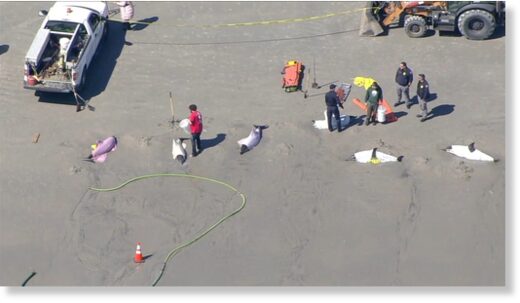 Two dolphins have died and six others had to be euthanized by a veterinarian after their pod became beached on the shore of this Cape May County resort town on Tuesday, according to the Marine Mammal Stranding Center in Brigantine.
"All eight dolphins have been transported to the NJ State Lab for immediate necropsies," the stranding center said in a Facebook post late Tuesday afternoon. "We share in the public's sorrow for these beautiful animals, and we hope that the necropsies will help us understand the reasoning for their stranding."
A spate of marine mammal deaths off the Jersey Shore since December has triggered what at times has been an intensely emotional debate over the cause.
---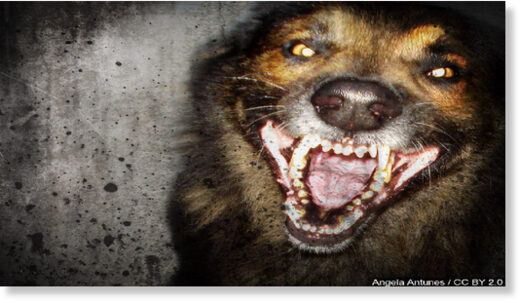 A man has died after police say a dog attacked him in Visalia.
Authorities say it happened at a business on S. Santa Fe St. near Walnut Ave. just before 8 am Tuesday.
The man was taken to the hospital, where he died from his injuries.
Authorities are not releasing the man's identity at this time, and they have not said what happened to the dog.
---