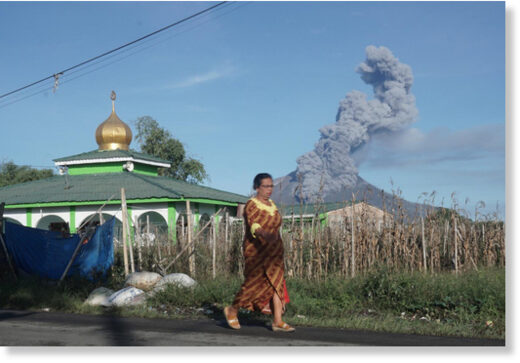 The Volcanology and Geological Hazard Mitigation Center (PVMBG) has warned the public to avoid Mount Sinabung in Karo regency, North Sumatra, and has evacuated nearby settlements as the volcano spews hot ash.
According to the PVMBG the volcano emitted a burst of hot ash at 12:51 p.m. on Sunday. The ash drifted some 1,500 meters southeast of the crater. It unleashed more ash, which drifted some 2,500 meters southeast, at 8:58 p.m. on the same day.
"We need to be cautious because the lava dome in Mt. Sinabung is growing every day. The condition can lead to a huge flow of hot ash," Mt. Sinabung observation team member Muhammad Nurul Asrori told
The Jakarta Post
on Monday.