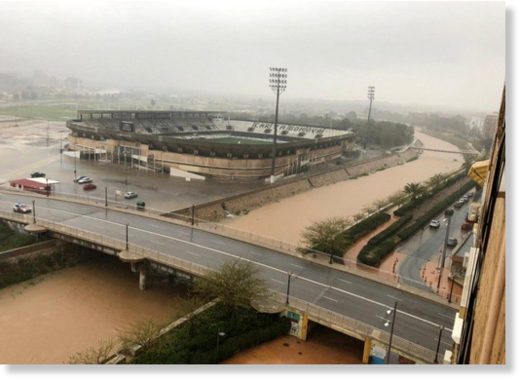 The fourth clean-up in 7 months begins in Los Alcázares
The latest heavy storm to cause flooding in Los Alcázares and other towns and villages in the Campo de Cartagena and along the coastline of the Mar Menor was rather less expected than the other three which have hit the Costa Cálida since last September, but the amount of rain it brought with it was very significant indeed in the south-east of the Region of Murcia and in and around the regional capital.
The Aemet national weather summary for Tuesday 24th March makes for very unusual reading in that eight of the ten wettest places in Spain were in the Region of Murcia!
Heading the list is the city of Cartagena with 121.2 millimetres, followed by Alhama de Murcia (90.6), Mazarrón (86.6), Torre-Pacheco (84.8), Fuente Álamo (83.0), San Javier, La Manga and the city of Murcia. The top ten is completed by Pinoso in the province of Alicante (Very close to Jumilla in the north of Murcia) and the north African enclave of Ceuta.