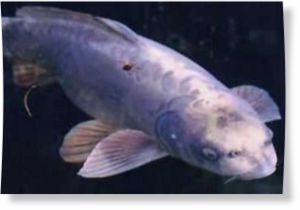 The hybrid descendants of a carp and a leather carp (tangerine fish) are the new sensation in the small South Korean town of Chongju because of their "humanoid" facial features.
The look suddenly appears after observing the front part of their heads for a moment or two. Two lines and two dots on their heads bear some resemblance to human eyes.
The local newspapers managed to snap some sensational pictures of the fish, which are about 80 centimeters long (more than three feet) and 50 centimeters (almost two feet) in circumference.