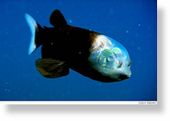 The fishy denizens of the deep are many, varied and strange, and among the strangest are the barreleyes, swift little hunters with tunnel-shaped eyes that live in the darkness of the deepest waters of Monterey Bay and in other seas worldwide.
For decades, biologists have puzzled over those fishes' eyes, because apparently they could look in only one direction - upward - and have wondered at the role of the mysterious transparent shield that covers their heads much like the cockpits of jet fighter planes.
Now two marine biologists in Monterey Bay, trolling with remote-controlled submarines from their surface ship, have tracked and captured the 6-inch living barreleyes on film and studied them in a lab to solve the puzzle: Those tunnels that hold their eyes, the scientists discovered, can actually pivot up and down - a rarity for any animal.