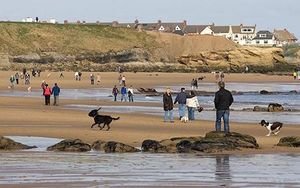 Britons are enjoying the hottest day of the year so far as forecasters predict a glorious spring week ahead.
Thousands of people flocked to beaches as temperatures matched those in Italy and Greece.
In parts of eastern England thermometers hit 59F (15C), making it one of the hottest places in Europe.
Weathermen said the burst of spring sunshine will bring even higher temperatures over the next few days and the warm spell will last until Thursday.
Coastal areas of Devon and Cornwall were packed with crowds normally seen at the height of summer.