An armoured suckermouth catfish, a reptilian-like fish normally found in South America, has been found in a Leicestershire waterway.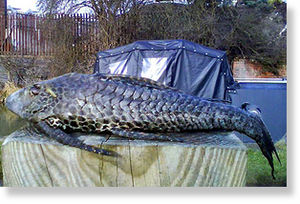 The prehistoric creature has scaly skin similar to a crocodile and an impressive set of teeth.
It was found, already dead, by schoolboy fisherman Shawn Brown in the Grand Union Canal at Wigston.
The 14-year-old took a picture of his 10 ins-long discovery and showed it to a number of aquarists who managed to identify it.
The armoured suckermouth catfish normally lives in Panama, Costa Rica and South America.