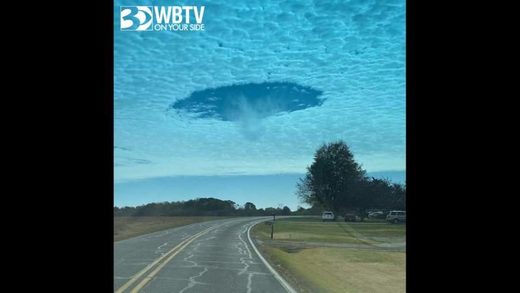 Images showing a mysterious circular gap that appeared in the clouds over a North Carolina highway have ignited a scramble for explanations on social media, including the
possibility it was created by a UFO
.
North Carolina TV station WBTV
was the first to post a photo
on Monday, with an explanation that viewer Phil Lambert of Lenoir submitted the photo taken on Old Mountain Road in Iredell County.
The photo shows what appears to be a near perfect circle in the clouds.
Not long after, photos from other people began to appear on Facebook, with some commenting — perhaps tongue-in-cheek — that the shape was not unlike the gap that might be left by a descending flying saucer ... or a cloaked USS Enterprise (
a Star Trek reference
.)
"ALIENS!"
wrote Dan Ciaccio
on Facebook.
"Wow! Looks like a scene from Independence Day!," posted Jennifer Brady Ellis, referring to the 1996 alien invasion movie.