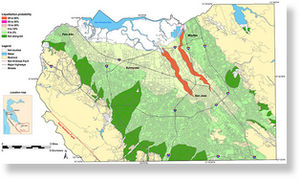 New U.S. Geological Survey maps show, for the first time, the degree to which Northern Santa Clara Valley is at risk of liquefaction during an earthquake.
The maps draw on 10 years of research, said Tom Holzer, an engineering geologist with the USGS, and senior author of the maps. Scientists can now quantify the degree to which an area is at risk, from 0 to 40 percent.
"Earlier maps tended to use categories like high, medium and low, and never told you what 'high' meant," Holzer said Tuesday.
Liquefaction is what happens when loose, wet sand or soil is shaken by an earthquake and reacts like water rather than solid ground. This sand or soil can flow like a liquid, causing major damage to structures built atop the soil, and utilities located under this shifting ground.