The discovery of a critically endangered gorilla population in the vast forests of northern Congo is a mammoth 125,000 - double that of previous estimates - should make even the most pessimistic conservation biologist smile.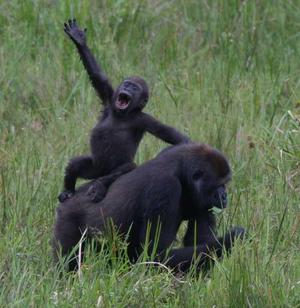 ©WCS
Western lowlands gorillas.
The numbers of western lowland gorillas living across 47,000 square kilometres of dense forestland were thought to have plummeted from 100,000 to half that number since the 1980s.
Just last year, the threat from the deadly ebola virus and indiscriminate bushmeat hunters prompted the International Union for the Conservation of Nature to add the apes to their critically endangered list.
The results of the census by the Wildlife Conservation Society and local government researchers were announced today at a meeting of the International Primatological Society in Edinburgh, UK.