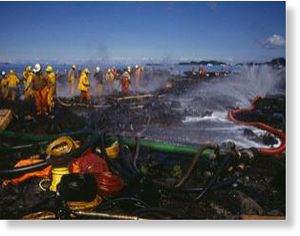 Next year will mark the 20th anniversary of the Exxon Valdez oil spill - perhaps the most notorious human-caused environmental disaster in history.
But, according to the latest survey of Prince William Sound in Alaska - where the oil tanker foundered in 1989 - very little oil remains and most of what does is not in a form or location that can harm animals, plants or humans.
Although scientists funded by Exxon and others working for Greenpeace agree on these facts, they are still at odds over whether the area can be given a clean bill of health.
Paul Boehm of Exponent International, a scientific consultancy that specialises in chemical contamination, led the survey together with colleagues from two other private companies and two US research universities. The study received funding from the Exxon Mobil Corporation.