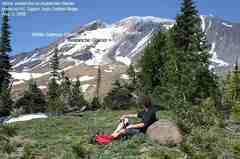 ©H.C. Tupper
photo of the southwest side of Mount Adams, with source of the recent avalanche identified. The avalanche sped downhill along the dark track visible below Avalanche Glacier in the lower center of the mountain.
A two-mile-long avalanche of ice and rocks large enough to rattle seismometers has reworked the southwest face of Mount Adams.
The volcano is usually very quiet, with few of the tremors that occur occasionally at other Cascade volcanoes such as Mount Hood. So the
seismic signal
from Mount Adams on Aug. 1 stood out to Cynthia Gardner of the
Cascades Volcano Observatory
in Vancouver, who first noticed it.
"It is a very large signal at a volcano that has a very quiet background," she told
The Oregonian
on Wednesday.