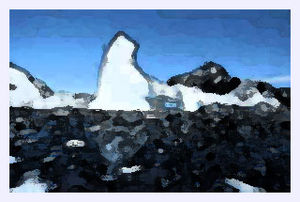 The latest news is the European Union has launched a high tech satellite to measure the effects of Global Warming on Earth's polar caps and collect data on rising sea levels. The satellite will be using radar from 447 miles (720 kilometers) above Earth's surface to measure ice thickness of both land and sea ice and is said to be capable of pinpointing changes to within 1 centimeter (0.39-inch).
The article goes on to say Pessimists expect a sea rise by 2 to 3 meters (6.6 feet to 9.8 feet) by the year 2100, while the Intergovernmental Panel on Climate Change (IPCC) in 2007 projected only some 20 to 60 centimeters (7.9 inches to 23.6 inches) and that CryoSat will yield invaluable data that will make predictions on rising sea levels much more certain, German glacial scientist Heinrich Miller said.
On the surface it sounds like the EU has really got its act together and wants to prove once and for all that Global Warming is real by showing the changes that were previously just computer simulated images.
However the data this satellite will provide is compromised even before it begins to send back any information. This is because the radar imaging of the Earth's ice will be transmitted back to computers here on Earth and integrated into the computer simulations already being used to prove this politically motivated sham. Since the radar mapping data will be used along with already manipulated simulations this guarantees a desired outcome rather than any new revelations. The so called Climate Change experts will use this new satellite information in hopes to convince the skeptics that Global Warming is real. In reality CryoSat is merely adding new simulation to be manipulated into computer graphs which have been created for an overall desired picture showing melting ice and rising sea levels.