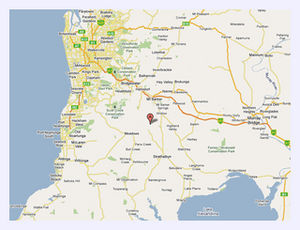 Residents of Adelaide in South Australia were woken last night by a 3.8-magnitude earthquake.
The earthquake happened at 11:27pm and people living within a 50 kilometre radius of the quake reported tremors lasting for up to 15 seconds.
The epicentre was close to Mount Barker, 40 kilometres east of the capital, in the Adelaide Hills.
Mount Barker resident Robert says he heard a loud bang when the quake struck.
"We heard a terrific explosion," he said.
"We live right opposite the golf course and lots of galahs roost in the trees and they made nearly as much noise as the earthquake itself but it was definitely an explosion."
Paul in Bridgewater emailed
ABC News Online
, saying: "Whoa! We just had what seemed like an earthquake go through our house."