HERRIN - Mayor Vic Ritter called it a "natural phenomenon." That's the expert opinion of state Department of Natural Resources field workers in Marion after inspecting the 60-acre Herrin City Lake No. 1 Friday, where a few thousand dead fish had floated to the top of the water from a lack of sufficient oxygen.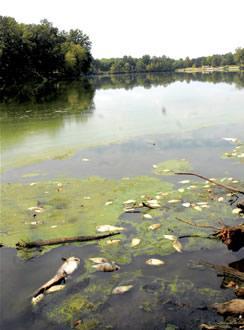 ©Chuck Novara / The Southern
Fish line the bank of Herrin City Lake No. 1 on Monday after a fish kill earlier in the week.
"
There's no rhyme or reason for it
," Ritter said. "That lake is a good lake, one of the best in the area. But this kind of fish kill has happened in Marion, Du Quoin and many other areas before."