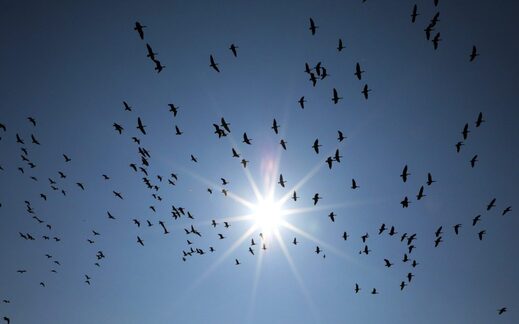 Researchers at the University of New Mexico believe it was the RECORD COLD WEATHER that caused the hundreds of thousands of birds to fall from the NM skies earlier this month, due to a lack off edible insects and hypothermia.
For weeks social media was
ablaze
with speculation and theories, and it being social media, one cause was permitted to
take-flight
: the California wildfires. However, objective science has now spoken and, as usual, it completely contradicts the mainstream narrative.
According to UNM Ornithology PhD students Jenna McCullough and Nick Vinciguerra, who were busy collecting samples around the Sandia Mountains while the
parrots
on SM were blindly
tweeting
#climatebreakdown
!
, the historic Arctic front that rode anomalously-far south on the back of a
meridional jet stream flow
was the primary cause of the deaths.
Just Count the Cold-Records that Fell over the Past 24hrs
"The day after the [early-September snow]storm, I was contacted via email by my supervisor, Mariel Campbell, the collections manager of the Genomic Resources Division of the Museum of Southwestern Biology, about birds dead and acting weird in Tijeras,"
said
Jenna McCullough.