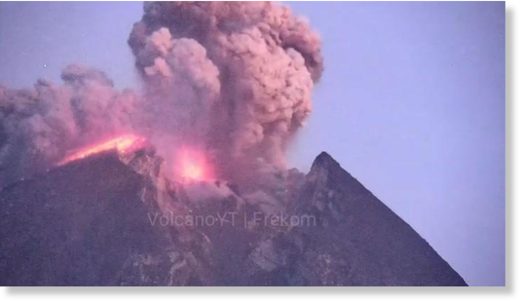 Mount Merapi, Indonesia's most active volcano, erupted early Thursday morning, spewing an ash column around 6,500 feet in the air. Disaster management authorities are warning tourists and locals to stay outside a nearly two-mile radius from the peak of the volcano.
The volcano which rises to 9,550 feet above sea level, is located at the border between Yogyakarta and Central Java (home to Indonesia's capital Jakarta). It erupted at 5:16 a.m. local time, which lasted for around 150 seconds, according to a statement by Indonesia's National Disaster Management Agency (BNPB).
Volcanic material was reported to have spewed over a 0.62-mile radius, pouring ash rain over various villages around 6.2 miles south of the volcano
, according to a statement by Hanik Humaida, the head of the Geological Disaster Technology Research and Development Center (BPPTKG).