The Flinders Range contains some of the most unusual geological formations in Australia. Indications of gigantic electric arcs are unmistakable.
In several
previous
Picture of the Day articles we have considered the geological history of the Australian continent and found that there are several disconformities in the appearance and structure of many formations. The famous "Red Center" is particularly noteworthy because Uluru, Kata Tjuta and other monolithic
stone tors
stand in isolated grandeur above the relatively flat landscape.
The
Flinders Range
is a rugged outcrop of sandstone and quartzite that begins about 250 kilometers north of Adelaide and stretches for 800 kilometers. The mountains are extensively folded and fractured, with several deep gorges cut through them. One of the most unusual features in the range is
Wilpena Pound
, a natural amphitheater of stone covering 83 square kilometers, with interior dimensions of 11 kilometers by 8 kilometers.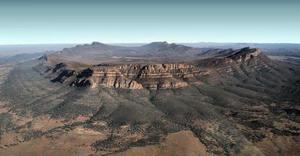 ©Unknown
Wilpena Pound, Flinders Range, South Australia