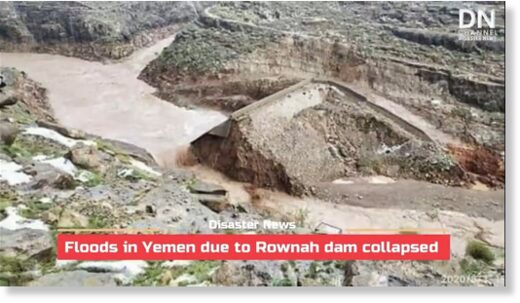 Heavy rain has continued to cause devastation across Yemen. Yemen Meteorological Services reported
111.8 mm of rain fell in Al Hudaydah (Hodeidah) governorate in 24 hours to 04 August,
2020.
The heavy rain has caused flooding, buildings to collapse and dam failure. At least 20 fatalities have been reported in the last few days as a result.
In a statement of 02 August 2020, Yemen's President Abed Rabbo Mansour Hadi said heavy rain had affected the governorates of Marib, Dhale, Abyan, Hadhramaut, Ibb, Al Hudaydah and Hajjah, among others.
SABA news agency reported that 17 people died and and 4 others were injured after torrential rains in various parts of Marib Governorate. Farms and homes have been severely damaged in the province and around 1,000 families have been displaced. Media reports said locals feared the Marib Dam would fail. Fatalities were reported in several districts including Marib city.